Head Boy and Head Girl Welcome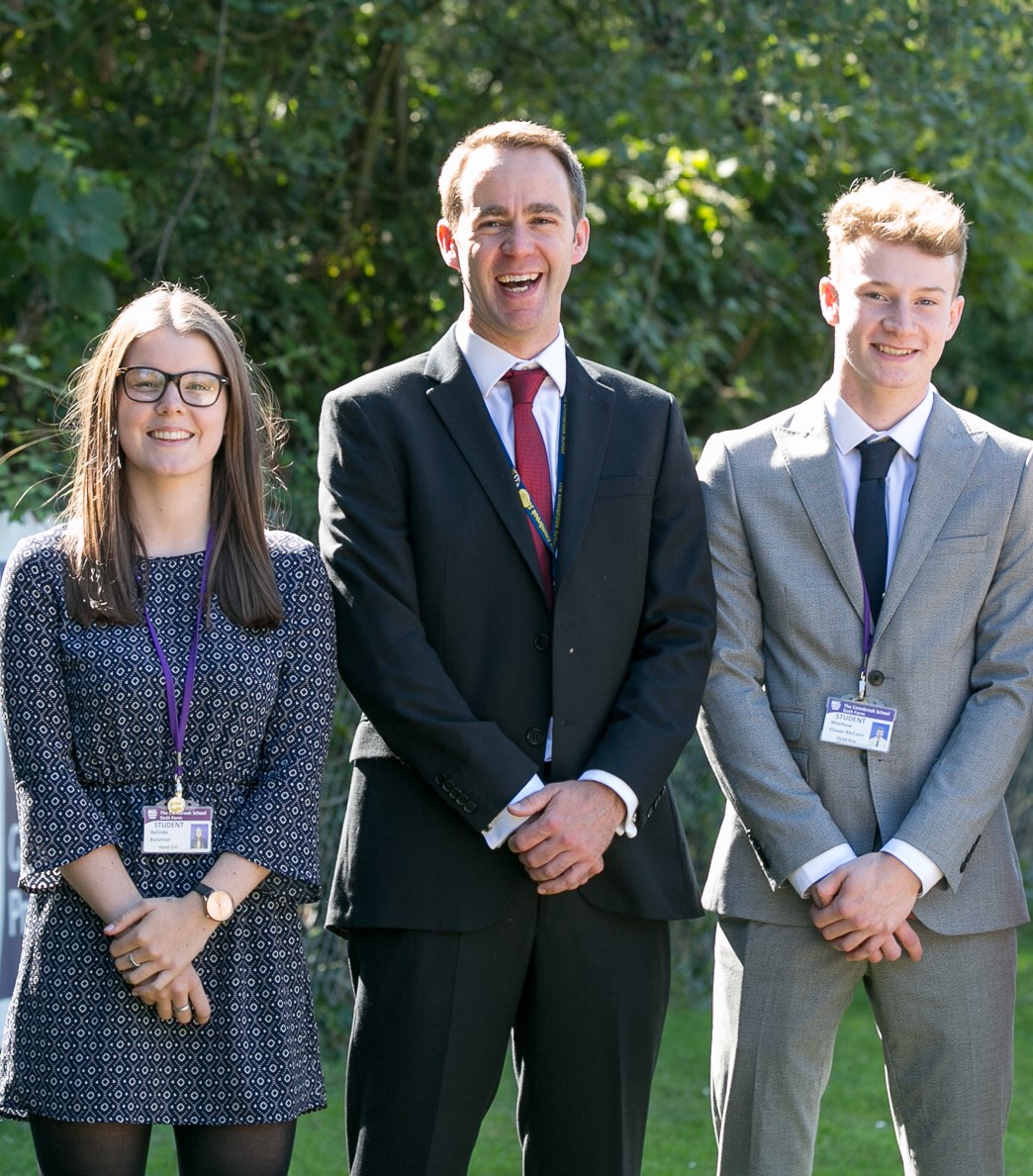 Welcome to The Emmbrook Sixth Form!
We are proud to be the new Head Boy and Head Girl for our school, a mixed comprehensive in Berkshire.
At Emmbrook, we pride ourselves in striving to achieve great things. Our school motto, 'Learning together, succeeding together' sums up our ethos perfectly. The Emmbrook Sixth Form prides itself on its many initiatives to allow the students to actively take part in important decisions regarding Sixth Form life. We have a fantastic leadership team, consisting of both of us and the deputy head boy and girl. This team works closely with the head of Sixth Form and the head of the school in order to ensure we all receive the highest quality academic and personal support possible.
At Emmbrook, student leadership is highly valued. Within the last year, we have introduced a "working party" system, which involves students sharing responsibility for areas such as finance and accounting, student mentoring and wellbeing, and extra-curricular activities within the Sixth Form. We feel very strongly about community spirit and regularly fundraise to give back to our local community. As a part of these fundraising efforts, we host a "Sixth Form Fundraising Week" at the start of the year. This often raises more than £2,500 for chosen local charities and is an amazingly fun week with competitions and shows put on by Sixth Form students in the Hall every break time. We also host a "Christmas Bazaar" every December where we provide games and entertainment with a Christmas twist.
As Emmbrook students, we are lucky enough to have three dedicated Sixth Form spaces to work and socialise in. We have a modern study area containing 41 up to date computers, a library with a large variety of fiction, non-fiction and reference books and a common area with a café specific to the Sixth Form, providing a place to eat and socialise for all students.
Emmbrook Sixth Form students are lucky enough to be offered a large range of courses to suit every taste. We are diverse in our interests with students studying Maths and Science as well as Art, Theatre, English and RS. We enjoy close teacher to student relationships and we thrive on the idea that each student feels supported and encouraged throughout their A Levels. As well as our academic studies, all students take part once a fortnight in "additional studies" which is an hour where we can partake in super-curricular online courses, listen to visiting speakers or engage in broader interests such as First Aid courses or Law courses.
Whilst we understand that our education is important, we also like to encourage a strong social ethic. The Sixth Form makes sure to involve as many students as possible in regular socials and coffee mornings, or sports games. We recently started the weekly "Tuesday Task", which allows all form groups across both years to compete in a variety of challenges to win the "Tuesday Task cup" at the end of the year. These can vary from codebreaking and puzzle-solving to more madcap physical challenges – and we never know what we will be doing until the task is revealed to us!
The Emmbrook Sixth Form is a great place to study and learn, with incredibly hard working teachers who are committed to helping us realise our full potential. We are very much looking forward to the upcoming year, putting our new initiatives into action and working alongside all of our fellow students to make sure the Sixth Form continues to go from strength to strength.
Matt and Belinda