Head Boy and Head Girl Welcome
Hello and welcome to the Emmbrook Sixth, we are the newly appointed leadership team. As student leaders we aim to abide by our school's FAIR values and foster a community of support, understanding and celebration of our backgroun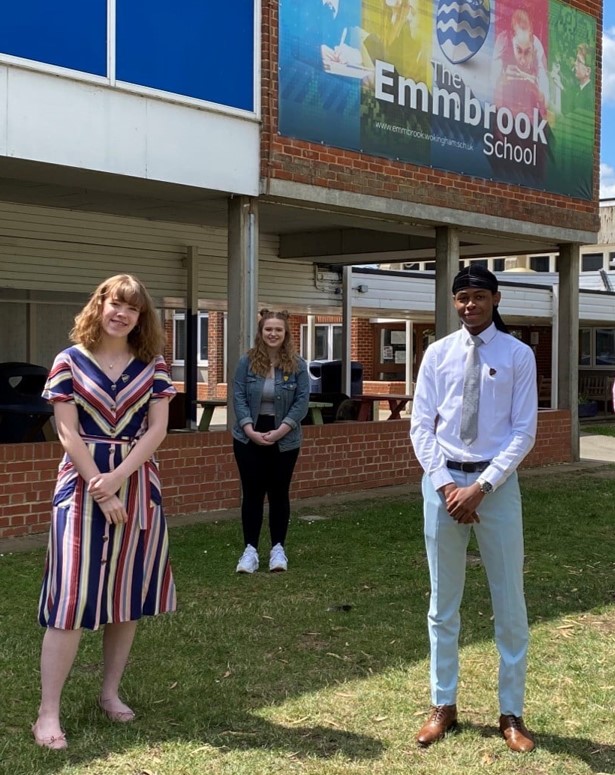 ds and achievements both academic and non-academic.
While we offer a range of subjects at the Emmbrook sixth, we aim to ensure every student has fun and leaves our sixth form as a well-rounded individual who is ready to progress in life. Every year we organize a fundraising week with the help of students to raise money for local charities, where we consistently raise over £2000.
Last year I, Olivia, took part in the lip sync battle, dancing to Proud Mary by Tina Turner, took part in would I lie to you? (which I won, I'm not sure if that's a good thing or not!) and I directed a comedy video which made fun of as many teachers as I could manage. JD was an incredible host last year, giving structure to the organized chaos of the week. Charlie, our deputy head boy, won the ultimate sixth former a title which he unfortunately will not let us forget. Katie, our deputy head girl, help me to edit our parody video, and her comedic timing is second to none. There are so many opportunities available and it is all done for an incredible cause and to entertain he lower school in the process.
We are working on creating an environment that will support and nurture the students of our sixth form, with the two dedicated areas for students. We have our study room, which is fitted out with 40 computers for use all day long and a group study area to promote group learning between students. We also have the common room which is an open space to socialize and work in.
This year we have reworked the way the prefect's system will run with the student leadership team, we have extended the prefects system to include students in all years, from seven to twelve. This means every student in the school will be able to have their voice heard at higher levels.
We have also implemented the Racial Elevation Program; we plan to help educated both students and teachers in racial awareness. The aim of this initiatives is to encourage both students and staff to actively fight against systemic racism in what is a predominantly white school. So, that racialised students feel accepted, heard and empowered in what should be a safe space for them.
We are also looking to work closely with local charities to organize fundraising events and bring in external speakers to talk about their stories and fields of work as we are looking to show the variety of careers available to every individual, especially try and promote STEM careers to our young female students.
We are looking forward to the upcoming year and working as a team to provide new initiatives to improve the experience of the sixth form for all.
Olivia and JD.