New Futures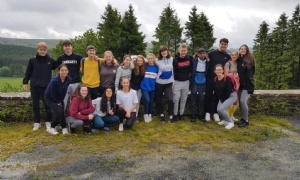 6 of our 6th Formers took students from Addington School to Tirabad
Last week six Y12 students from Emmbrook visited Tirabad with students from Addington School as well as fellow 6th formers from Charters and Maiden Erlegh. The trip was a massive success and I am so proud of how they supported each other and reflected on their experiences each day. Anyone who has been on this trip will know it is hard to put into words the lifelong memories made and skills developed. Here are some of the comments students wrote about this trip.
It's incredible how 5 days can give people so much growth and joy. These kids could cure the world's happiness. I am truly inspired and I hope my contribution to their fun inspired them too!
(Ellie Y12)
I am glad to say that this year 12 trip was my most enjoyable, these kids have really changed my view of everything and everyone. I absolutely loved it!
(Aimee Y12)
I have been constantly laughing and loved all the singing and dancing. Helping the students has taught me so much about myself.
(Emma Y12)
This has been the most incredible week. All of the kids are incredible and have changed my perspective on life. By far the most amazing opportunity. Thank you.
(Sally Y12)
I have never felt so moved and genuinely inspired by these young adults. Don't believe stigma, don't be in ignorance and don't judge. You'll never know who will change your life.
(Mark Y12)
I have gained so many life skills that I hope will never leave me. The progress the students made fills me with so much joy and happiness.
(Sophie Y12)
And a few from our friends at Addington:
I most enjoyed the canoeing and when I crashed the boat and fell in. I also enjoyed when everyone was splashing each other.
I've had a wonderful 3 years at Tirabad and I am really disappointed to leave. I have spent time meeting the 6th formers when they helped me improve on my activities.
I liked the dancing and the canoeing because I splashed people and I liked the ice cream
I like the disco and caving because I saw a waterfall
I liked the dancing and being the champion of arm wrestling!
I like the archery and canoeing and the games and I win sweets!
I enjoyed Tirabad because of the singing in the bus, my favourite activity was caving because it was so much fun. I enjoyed hanging out with the 6th formers.
I'm telling all my friends!