Fantastic GCSE Results 2019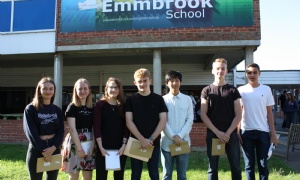 We are delighted to share the successes of our 2019 cohort, with a quarter of all grades awarded at 7-9 (equivalent to A/A*). Two thirds of our students achieved a strong pass in all subjects. English and Maths maintained their high performance, with 75% of students achieving a standard pass in English and 72% in Maths
We are delighted to share the successes of our 2019 cohort, with a quarter of all grades awarded at 7-9 (equivalent to A/A*). Two thirds of our students achieved a strong pass in all subjects. English and Maths maintained their high performance, with 75% of students achieving a standard pass in English and 72% in Maths.
Our focus on academic excellence has resulted in outstanding individual performance. Impressively, on average, each of our high ability students made a third of a grade more progress per subject than high ability students nationally. Some individual successes include the following:
Solly Wheeler secured seven grade 9s, an 8, two grade 7s and an A* in Further Maths.
Klaudia Tyrala achieved seven grade 9s, an 8, two grade 7s and an A in Further Maths.
Alex Ford earned four 9s, an 8, two 7s and A* in Further Maths.
Katie Hampton has three grade 9s, an 8, six grade 7s and an A in Further Maths.
Tom Machin accomplished two 9s, four grade 8s, a grade 7 and an A in Further Maths.
Joschen Gavilan earned one grade 9, three grade 8s, four 7s and B in Further Maths.
Toby Jones achieved two 9s, an 8, five grade 7s and A in Further Maths
Jess Court secured a grade 9, two grade 8s, five 7s and B in Further Maths.
We are extremely proud of our students and their well-deserved achievements. Alongside these high performing students, we had success across the ability range. We're delighted to be celebrating alongside our students today, who have worked hard for their results. The overall pass rate for all qualifications was 99%.
As Acting Headteacher, it is pleasing to see our students turn their hard work into the results that they deserve. I am very proud of our community; staff and students worked in partnership to produce these outcomes. With these qualifications, our students will be able to access the next stage of their education. I am delighted that so many students have chosen to remain with us in our Sixth Form.
We all wish our students continued success and prosperity in the future.