Black History Month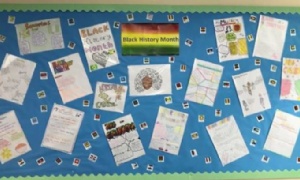 Throughout October every student has taken part in a Black History month lesson.
October at the Emmbrook marked our annual Black History month celebration!
The month was kicked off with assemblies all about an inspirational black British person – Stormzy. Students learnt all about Stormzy's acheivements outside of music including starting his own record label and collaborating with Penguin publishing house to have books printed of ethnic minority authors who would never normally have the opportunity to have their work published.
This year every student, in every year group, took part in a black history lesson in every single subject. The Emmbrook teachers planned some phenomenal lessons linking a plethora of black history knowledge to their curriculum area including creative clocks inspired by Benjamin Banneker in maths; Being black in Nazi Germany in languages; Racism in football in PE; Hidden figures in English, Science and computer science; Black culture in the UK in Geography and so much more!
The students have really enjoyed learning something different in their subjects and have created amazing presentations, posters and pieces of art.
Mrs Kisubi
Curriculum Leader for Geography