Emmbrook 4 Bohunt 0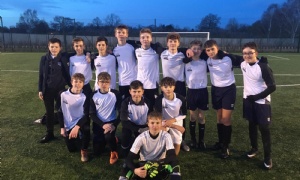 Bohunt Beaten Brilliantly - Match report by Harry McBain
On Tuesday 28th January, Emmbrook's Year 10 team set out to play a confident Bohunt side. But Emmbrook were also in good form, after playing against EPS where they were 5-1 victors, and they were ready to fight for 3 points on the road.
Right from the off the Emmbrook squad dominated, keeping a lot of the ball and playing it around the pitch smoothly. It didn't take long for Emmbrook to take the lead through a lovely finish from key striker Robbie Hadleigh who slotted it passed the Bohunt keeper. After restarting, Emmbrook pressurized Bohunt and regained possession, after a lovely string of play Robbie Hadleigh was brought down in the box and captain Alfie Fullbrook stepped up and smashed in the penalty straight to the bottom right corner.
At the start of the 2nd Half being 2-0 up over their rivals, Emmbrook kept up their impressive and eye-catching football and it wasn't long before Robbie Hadleigh got his 2nd and was desperate for a 3rd. Meanwhile, later on Cameron Wise whipped a free kick from outside the box only for it to rebound off the crossbar and out! It couldn't be an impressive Emmbrook performance without Alex Daw getting on the scoresheet putting Emmbrook 4-0 up. The strong defence continued its hard work late on as they stopped a string of Bohunt chances from going anywhere, causing frustration for the Bohunt players.
At the full-time whistle there wasn't an Emmbrook player who wasn't smiling after beating their biggest rivals 4-0 away from home, with keeper Brayden Smith keeping a clean-sheet and every player making an impact. It's fair to say, Mr Tichband was very proud and impressed by their teamwork and performance.