Balfour Beatty Backs Schools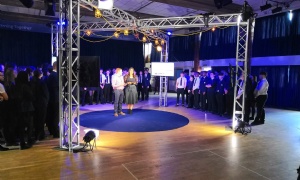 Article by Jonathan Dodd (Year 10)
On Tuesday 2nd March, students from Year 10 were delighted to welcome Balfour Beatty and their colleagues to the Emmbrook School to run a live broadcast discussing career opportunities in construction.
The event was an amazing opportunity for everyone in the audience to gain a valuable insight into career opportunities in this field, as well as broader career advice; with students taking full advantage of this moment to ask a variety of questions such as, "How can I improve my CV?" and something which is very topical for Year 10's, "What work experienced did you do before applying for a job in construction?" It was inspirational to have our questions answered by young employees of Balfour Beatty as it was easy to relate to them.
I personally, was very impressed with the answers to our questions and it has encouraged me to find out more information about this construction sector. More importantly, it has prompted many of us to think about how playing sports, for example netball or football, can be considered as proof of having good communication skills on our CVs.
If you are interested, here is the link to the broadcast.
https://learnliveuk.com/construction-live-5/
So start asking yourself, "What are my key skills?"