UK Youth Parliament Success for Emmbrook Pupil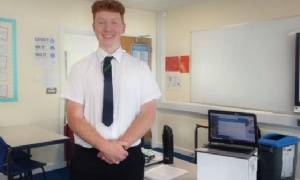 Year 11 pupil will represent Wokingham in the Youth Parliament.
We are very pleased to announce that Jonathan Y11 has been confirmed as the Wokingham Youth Parliament representative after competing in this year's heats!!
His detailed manifesto discussed mental health services in light of the previous year, a focus on academic change in light of the government decisions around GCSE qualifications, integration of life skills into the curriculum and education on tackling prejudice.
It was a tough task going up against 4 impressive other candidates in virtual elections and we are thrilled to support Jonathan and vice-chair Amajot (St. Crispin's School) on their venture as representatives and can't wait to see the exciting projects going forward.
This project runs each year (hopefully face to face next year) and more information can be found here https://www.byc.org.uk/uk/uk-youth-parliament