Open Evening and School Tours
Welcome to The Emmbrook School.
Tours September 2022
We are delighted to launch our school tours from the 12th - 27th September 2022. These tours allow you to visit the school during a normal day to see the work we do with all students across all subjects and key stages. I really welcome your Y6 students joining you on the tour so they can begin the transition process from an early start. Tours start at 9.10am, further details will be sent through before the event. You can book your place here: https://www.eventbrite.co.uk/e/the-emmbrook-school-tour-tickets-413973414627
Meet the Headteacher (Online)
For those unable to make it in person to the tours, we are hosting an online 'Meet the Head' event on Thursday 29th September from 9.00am until 9.45am. You can book for this online event here: https://www.eventbrite.co.uk/e/emmbrook-school-online-meet-the-headteacher-tickets-414165027747
Open Evening
Our Open Evening is the 28th September. The site will be open from 6pm for you to visit departments and have conversations with students and staff. Mr McSweeney (Headteacher) will be making an address at 6.30pm and repeated at 7.30pm. You can book your preferred time here: https://www.eventbrite.co.uk/e/the-emmbrook-school-headteachers-address-tickets-414153613607
Dear Parents and Students,
I am delighted to welcome you to The Emmbrook School. As a father of two (both at secondary school), I am acutely aware that choosing the right school is such a significant decision. This page will offer you a digital introduction to The Emmbrook.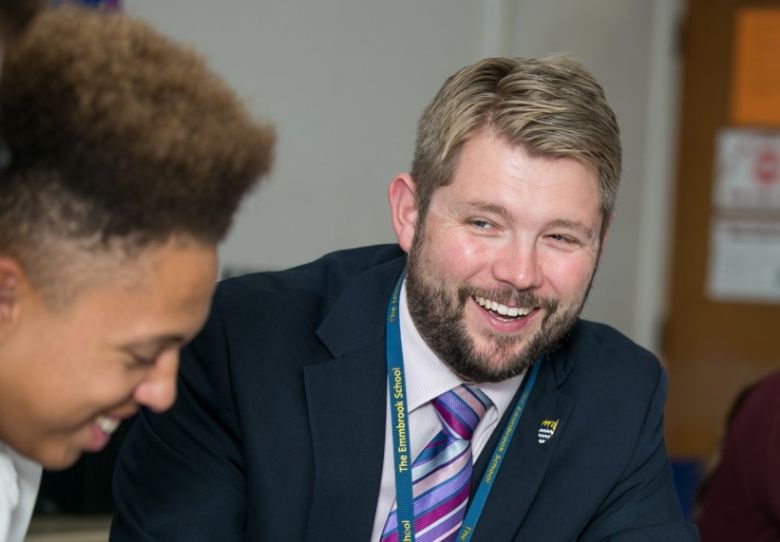 Every September, I select a quote that sums up our ambition for the year ahead; this year "Reach for the stars" – I know it's cheesy, but it's important to me that we all work hard to keep this school fun, caring and engaging so that every student will achieve academic and personal excellence.
I hope to meet you in one form or another in the coming months, via our tours, during the open evenings or at one of my online morning meetings for parents. Information regarding all these events will be released soon. In the meantime, if I can assist you personally, then please do contact me (nmcsweeney@emmbrook.wokingham.sch.uk).
The schools in Wokingham are excellent, that should make this process easier, but somehow it makes it harder! Good luck with choosing the school that is right for you.
Best wishes,
Nick McSweeney
Promotional Video
Video Tour
Results 2022
We are incredibly proud of the fantastic results achieved by our Year 11 students today. These students have faced so much uncertainty and disruption as a result of Covid-19 and yet showed incredible resilience and maturity to produce results well ahead of 2019 (when public exams were last sat).
Students performed well across English, Maths and Science, with the three subjects together producing the best combined exam results The Emmbrook has seen in a generation. Over half of the cohort secured a 7 grade or above (A & A* in the previous grading system).
We are so proud of every single one of them for their continued effort, diligence and ambition.

Virtual Tour
Browse our subject areas at your leisure with an array of 360 degree pictures. Click here to view
Meet the Head
We ran a series of 'Meet the Headteacher' video chat sessions from September 21st until October 2nd. These allowed over 100 families to spend time with Mr McSweeney (over video conferencing software) and ask pertinent questions about the school. Watch a recording of one of the videos below.
Open Evening
We ran 3 live Open Evening events on the 7th, 8th and 9th October where presentations were given by the Headteacher (Mr McSweeney), Head of Year (Mrs Hodgson) and JD and Olivia (Head boy and Head girl).
Below is a recording of this event from Thursday 8th October.
Virtual Tour
Feel free to click around the school site below! You can also see subject specific photos here
Induction Videos
We have also created a host of videos for our new students as part of their induction, but these may be of interest as they show you around many areas of the school. These can be viewed here: https://www.youtube.com/playlist?list=PL5O-YFsnbTWqaCAMLF7G0YKVwLTM6FCNz
Facebook
We advise following our Facebook page for updated details https://www.facebook.com/Emmbrookschool
A Day in the Life of A Year 7
Questions?
If you have any questions about the open evening or the school tours please email Mr C Johnson
Updated May 2022