Open Evening and School Tours
Welcome to The Emmbrook School.
Dear Parents and Students,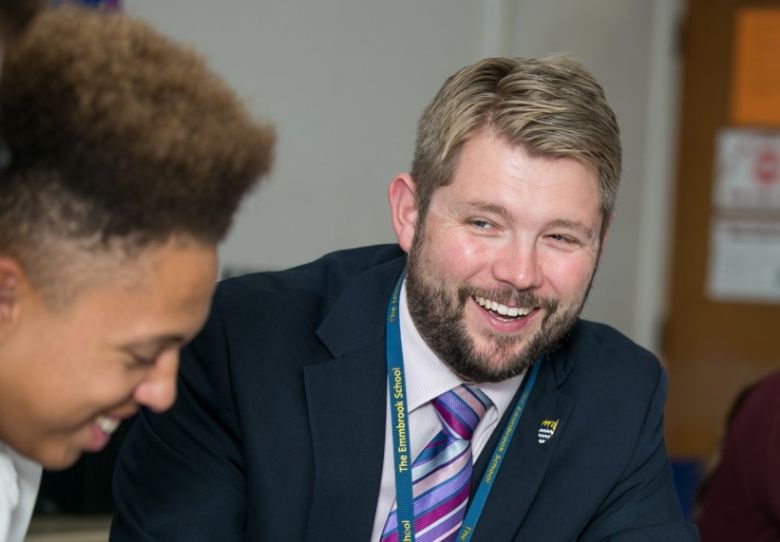 I am delighted to welcome you to The Emmbrook School, even if your 'visit' is online. I hope that you will understand that we are forced to do things a little differently this year to keep everyone as safe as possible. As a father of two (both at secondary school), I am acutely aware that choosing the right school is such a significant decision. This page will offer you a digital introduction to The Emmbrook. I know that this can't possibly be as good as physically visiting the school, meeting our brilliant staff and amazing students and getting a feel for us in action and, frankly, I am gutted that we do not have the opportunity to show you our fantastic school in operation. However, we are going to do our best to give you an outstanding transition experience.
Every September, I select a quote that sums up our ambition for the year ahead; this year "the sky's the limit" – I know it's cheesy, but it's important to me that we all work hard to keep this school fun, caring and engaging so that every student will achieve academic and personal excellence.
I hope to meet you in one form or another in the coming weeks, via our videos, during the online open evenings or at one of my online morning meetings for parents. Information regarding all these events can be found below. In the meantime, if I can assist you personally, then please do contact me (nmcsweeney@emmbrook.wokingham.sch.uk).
The schools in Wokingham are excellent, that should make this process easier, but somehow it makes it harder! Good luck with choosing the school that is right for you.
Best wishes,
Nick McSweeney
Video Tour
Virtual Tour
Browse our subject areas at your leisure with an array of 360 degree pictures. Click here to view
Meet the Head
We will be running a series of 'Meet the Headteacher' video chat sessions from September 21st until October 2nd. These are limited to 8 parties per meeting. This was initially planned to be in person but the 'rule of 6' has forced changes. Click here to book
Open Evening
We will also be running 3 Live Q&A sessions through Microsoft Teams (don't worry - you won't be on camera, but you can type your questions). These will run on the 7th, 8th and 9th October from 7pm until 8pm. You can choose which session best fits in with your week. Click the links below at 7pm on your preferred evening (no booking necessary)
We will be live through the following links (these links will only work on the evening and time specified, please bookmark them or copy and paste to send to other interested parents!)
Wednesday 7th October - Y6 Live Q&A 7.00pm until 8pm
Thursday 8th October - Y6 Live Q&A 7.00pm until 8pm
Friday 9th October - Y6 Live Q&A 7.00pm until 8pm
Virtual Tour
Feel free to click around the school site below, subject-specific tour photos will be released soon.
Masterclasses
This year, we have moved our Year 5 and 6 'Masterclass' sessions online and they can be viewed here: https://www.youtube.com/playlist?list=PL5O-YFsnbTWr98aGJvwDboZQ1-r6Agmjj
Induction Videos
We have also created a host of videos for our new students as part of their induction, but these may be of interest as they show you around many areas of the school. These can be viewed here: https://www.youtube.com/playlist?list=PL5O-YFsnbTWqaCAMLF7G0YKVwLTM6FCNz
Facebook
We advise following our Facebook page for updated details https://www.facebook.com/The-Emmbrook-School-587991647982491
Information pack
Please download the information pack that was given to all parents last year. Please note that an updated version will be created in September and some information may no longer be relevant.
A Day in the Life of A Year 7 (filmed in 2019 prior to COVID)
Questions?
If you have any questions about the open evening or the school tours please email Mr C Johnson
Updated September 2020