Open evening 2024: Watch this space!
Join our [Mailing list] to keep up to date with all transition activities planned for current Year 5 over the next year
Dear Parents, Carers and Students,
I am delighted to welcome you to The Emmbrook School. As a father of two (both at secondary school), I am acutely aware that choosing the right school is such a significant decision. This page will offer you a digital introduction to The Emmbrook.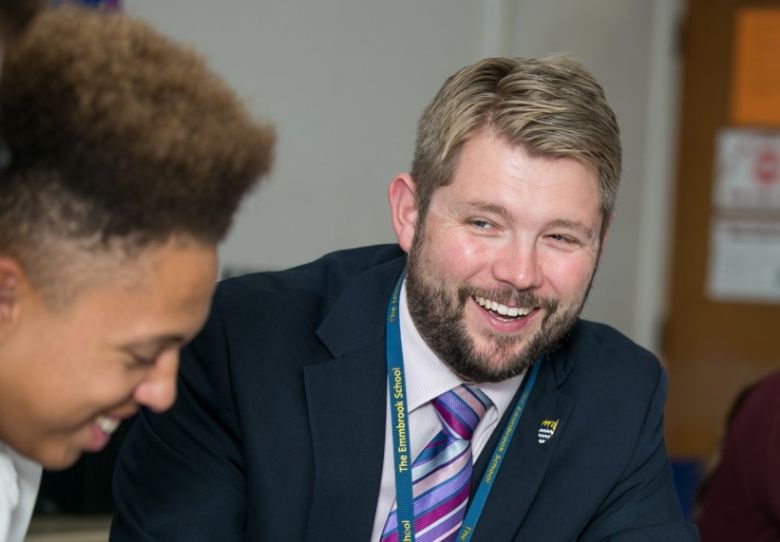 Every September, I select a quote that sums up our ambition for the year ahead; this year
"The past is written, but the future is left for us to write.
And we have powerful tools, openness, optimism, and the spirit of curiosity." (Jean-Luc Picard)
It's important to me that we all work hard to keep this school fun, caring and engaging so that every student will achieve academic and personal excellence.
I hope to meet you in one form or another in the coming months, via our tours, during the open evenings or at one of my online morning meetings for parents. Information regarding all these events will be released soon. In the meantime, if I can assist you personally, then please do contact me (nmcsweeney@emmbrook.wokingham.sch.uk).
The schools in Wokingham are excellent, that should make this process easier, but somehow it makes it harder! Good luck with choosing the school that is right for you.
Best wishes,
Nick McSweeney
Promotional Video
Video Tour
Results 2023
We are incredibly proud of the results achieved by our Year 11 students. They are the first students to be examined at the pre-pandemic standards and have shown great resilience in the face of challenges and disruption.
Students performed well in English, Maths and Science, with the three core subjects leading the way in exam results, in particular with "standard" (4+) and "strong" (5+) passes.
High performing subjects at grades 7-9 included Art & Design, Biology, Chemistry and Physics, Computer Science, French, Geography, Maths, Media and Creative Media Production.
Virtual Tour
Browse our subject areas at your leisure with an array of 360 degree pictures. Click here to view
Meet the Head
We ran a series of 'Meet the Headteacher' video chat sessions from September 21st until October 2nd 2021. These allowed over 100 families to spend time with Mr McSweeney (over video conferencing software) and ask pertinent questions about the school. Watch a recording of one of the videos below.
Open Evening
Below is a recording of our 'Online Open Evening' 2020.
Virtual Tour
Feel free to click around the school site below! You can also see subject specific photos here
Induction Videos
We have also created a host of videos for our new students as part of their induction, but these may be of interest as they show you around many areas of the school. These can be viewed here: https://www.youtube.com/playlist?list=PL5O-YFsnbTWqaCAMLF7G0YKVwLTM6FCNz
Facebook
We advise following our Facebook page for updated details https://www.facebook.com/Emmbrookschool
A Day in the Life of A Year 7
Questions?
If you have any questions about the open evening or the school tours please email Mr C Johnson
Updated September 2023