School Uniform
Our school uniform is available through Marks and Spencer. Click here to access their website.
In previous years, Marks & Spencer have offered a discount when purchasing school uniform through their School's website. They have recently confirmed to us that in July, they are again going to repeat this 20% discount which will coincide with their uniform stock deliveries.
They have also advised us that they are in the process of producing their new uniform leaflet which includes a sizing guide which you can find here.
Jupiter: Yellow Mercury: Red Saturn: Green Venus: Blue
It is very important to the school that students wear the correct uniform during the school day and when travelling to and from school. We believe that this sets the standard in terms of high expectations and a purposeful attitude towards work, while promoting the school and our ethos. We rely very much on the co-operation of pupils and parents in helping us to set and maintain high standards of dress and appearance.
Parents should be aware that the Local Advisors of the school are keen that the school uniform should be adhered to closely and that, in the last resort, students who are not in school uniform could be excluded from school until they are properly dressed.
Below is a list of school uniform and P.E clothing that the students are required to wear.
Please find a copy of the school uniform policy here
Uniform
Emmbrook School blazer & tie - School jumpers may be worn in addition to the blazer
Plain white school shirt (top button must be done up)
Plain black front creased school trousers or a plain black loose fitting knee length skirt
'Polishable' black shoes
No leggings, jeans/denim or socks over tights
No tight fitting skirts
No trainers or canvas shoes of any kind
Piercings must be limited to a single pair of stud earrings
Our compulsory items of uniform are available from Marks and Spencer at the following website
Orders can be placed online or by telephone
| | |
| --- | --- |
| Blazer | Compulsory – Navy with embroidered badge |
| Tie | Compulsory – House Tie |
| Jumper | Optional – Navy V Neck with embroidered badge |
| Shirt | Plain white (not fitted – designed to be worn with a tie) |
| Trousers/ Skirt | Plain black – school design; Plain black, school design, knee length |
| Socks / Tights | Plain black socks or plain black or flesh coloured tights |
| Shoes | Plain black if applicable heels 5cm or less |
| Top Coat | Plain navy or black – (not permissible – heavily embossed, check, denim, leather, hoodies) |
PE Uniform
| | |
| --- | --- |
| Rugby Top | Compulsory - AKOA Reversible Rugby Top – Navy/White with embroidered badge |
| Microfleece | Compulsory only if Rugby Top is not purchased - The Emmbrook School Navy with embroidered badge |
| Polo Shirt | Compulsory – AKOA Sports Polo Shirt – Navy/White with embroidered badge |
| Shorts | Compulsory – AKOA Multisport Short – Navy with embroidered badge |
| Socks | Compulsory – AKOA Navy Pro Sports Socks |
| Track Pant/Joggers | Optional - AKOA Pro Track Pant / Joggers – Optional Navy |
3G Pitch
The new 3G astro pitch was officially opened in January 2020.
We have received specific guidance as to the appropriate footwear needed from the supplier, TigerTurf so please bear this in mind when purchasing footwear as part of your child's school uniform.
Permitted Footwear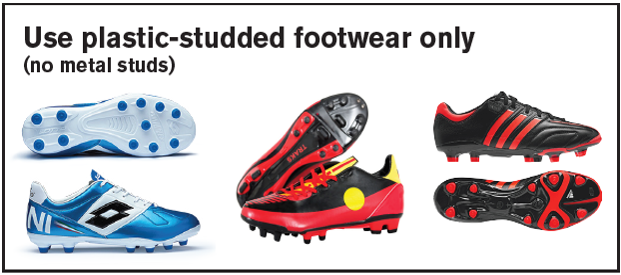 Footwear that is not permitted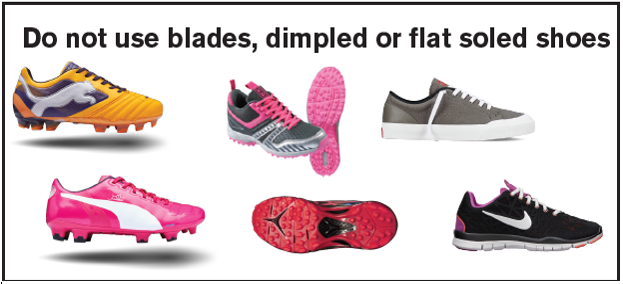 For further details please consult: www.tigerturf.com
Please direct any questions to: Chumber@emmbrook.wokingham.sch.uk