Sixth Form Results & Key Performance Indicators
We Celebrate our Students' Achievements - A-Level 2023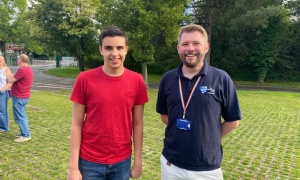 Maths & Sciences Lead the Way
We are delighted to celebrate with our students as they receive their fantastic results today.
Our students have produced strong results in the first year of normality following the pandemic. Despite not having had the opportunity to sit their GCSE exams when they were in Year 11, our students have shown incredible resilience by sitting their A-level exams this summer, with pass rates returned back to pre-pandemic standards.
Over 40% of all students secured A*-B grades, with two-thirds achieving A*-C grades and many receiving A* and A grades across all their subjects. Maths, Computer Science, Chemistry, and Physic achieved considerable subject success.
These results mean that our students will now be able to progress to the next stage of their studies. We value the achievements of each and every student and the opportunities that are now before them, from those taking up places on courses at many of the UK's top universities, including very many at Russell Group universities, to those who are pursuing their career aspirations through high-quality apprenticeships.
Mr Constable, our Head of Sixth Form commented "the results this year group have achieved are the culmination of two years of hard work. This year group have experienced a number of challenges, and have had a far from normal educational experience, but they have risen to the challenge to achieve an excellent set of results which shows the quality of student we had in this year group. They have been a delightful group of students to work with, who have contributed to the wider school life and have managed to maintain a positive outlook in spite of the obstacles they have faced. We are all very proud of everything they have achieved, and everything they have done for the school. We wish them all the best and cannot wait to hear about their future success."
Mr Whitehouse, Assistant Headteacher responsible for Post-16 added "we are incredibly proud of this cohort of individuals on making it through an incredibly tough two years. They were unable to sit GCSEs in 2021 and so this summer's exams were the first external assessments they took. What they have achieved is highly impressive.
The way the students approached their studies and prepared for their 'first' public exams demonstrated what a resilient and aspirational group they are. They managed to block out all the external noise around the uncertainty of exams and overcome the challenges of the disruptions of Covid.
The end outcome is a superb set of results which will allow them access to move on to the next stage of their journeys, whether it be university, apprenticeship or the world of work."
Nick McSweeney
Headteacher
17/08/2023